Hi all racing fans in the world! I'd like to introduce Japanese racing time to time for all the foreigners who is interested in one of the greatest racing circuits in this world, Japan.
Since Japanese iconic race, the Japan Cup will be coming up in this weekend, I give you some heads up and show historical races in the past. 
First Japan Cup was held in 1981.
The race to raise the mood of Japanese horsemen to compete to the horses in the world
At that time, you cannot really believe but the most of Japanese horsemen didn't concern about outside of the country. Although some horse in the past tried to compete in the US like Hakuchikara (below), most of them just raced domestically and completed their work. Horses finished their life in Japan.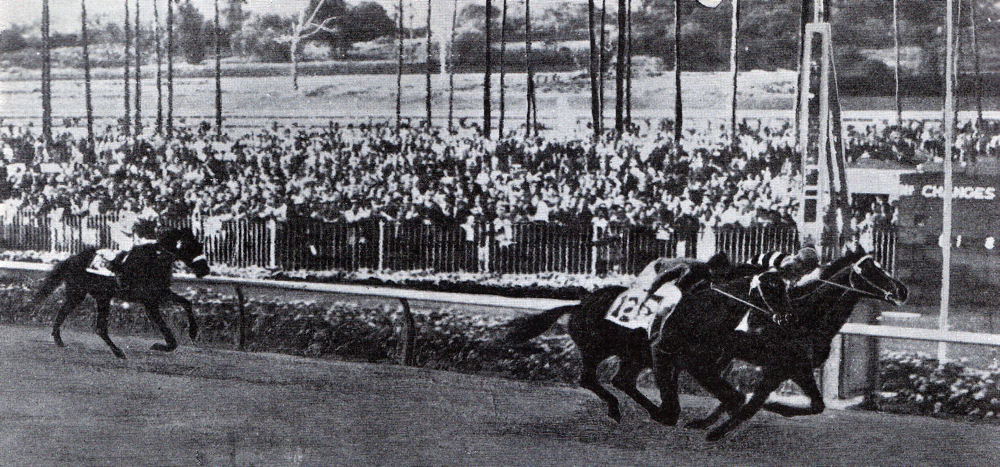 The employee of Japan Racing Association, Yoshitaka Kitahara, wanted to change this. He really wanted to internationalize the Japanese racing towards the future, and make horse racing as a leisure of Japanese people that stimulate breeding more. With the approval from JRA, he started to work to found an invitational international race in Tokyo Racecourse. His trip to US, New Zealand and many other countries were not so easy, since Japan was recognized as just a "Far East Country" and no idea to bring their precious horse over to the small islands in East Asia.
However, his effort has bloomed a big apple at the very first Japan Cup. He could invite champions from the United States, Canada and India! Total 7 horses were invited and competed against Japanese contenders, Mairzy Doates, The Very One, Frost King, Bridle Purse, Mr. Macho, P'Tite Tete, and Own Opinion.
The first winner was Mairzy Doates from the United States!
Though before the break Takelamagan, the Japanese contender, made a trouble at the gate and broke out but the jockey could control him and made no issues. Race was won by Mairzy Doates, and first top 4 finishers were from foreign countries, Frost King 2nd, The Very One 3rd. P'Tite Tete finished as 4th. 
That brilliant achievement by foreign mare made Japanese horsemen to open their eyes how their horses are so weak existence in the world and would have to improve.
After few trials, the 3rd year, 1984 was won by Japanese champion first time, Katsuragi Ace. 
The last win by international contender is in 2005.
Frankie Magic!
Since 2005, all the Japan Cup races were won by domestic, Japanese runners includes super champ Kitasan Black, queen Almond Eye and etc. The last achievement by international runner was made by Alkaased ridden by genius Frankie Dettori! Amazing runner and later stallion, Heart's Cry 2nd.
Fantastic Racecourse, Tokyo.
It is little far away from the heart of Tokyo, but you can access Tokyo Racecourse without driving your car. Keio line train will bring you to in front of the gate. 
Go to Shinjuku Station, take Keio Line to Higashi-Fuchu, and take the train right next to you. Then you will see magnificent Tokyo Racecourse, one of the best track in the world.
If you have any questions, please feel free to contact at info@derby-trail.com