Post Position was drawn!
The 42nd running of Japan Cup Post Position was drawn. Even though some Japanese racing media says its participants are not excellent, still there are Shahryar, the Japanese Derby 2021 winner, Daring Tact, the Triple Tiara 2021, rising star Vela Azul, and many European invitees are there. Absolutely, it will be exciting Japan Cup in these years.
Bk
Hs
Horse
Sex
Age
Weight
(Kg)
Sire
Dam
Dam's sire
Dam's dam
Jockey
Trainer
Owner
Breeder
Win
Fav
Win
Odds

1

1
Simca Mille(IRE)
C3
55.0
Tamayuz
Swertia
Pivotal
Sanjida
Gregory Benoist
Stephane Wattel
Haras De La Perelle
Haras de la Perelle

1

2
Onesto(IRE)
C3
55.0
Frankel
Onshore
Sea The Stars
Kalima
Christophe Lemaire
Fabrice Chappet
Gerard Augustin-Normand
Diamond Creek Farm

2

3
Weltreisende(JPN)
H5
57.0
Dream Journey
Mandela
Acatenango
Mandellicht
Damian Lane
Yasutoshi Ikee
Sunday Racing Co. Ltd.
Northern Racing

2

4
Trust Kenshin(JPN)
H7
57.0
Heart's Cry
Aphelandra
El Condor Pasa
Great Catty
Kyosuke Maruta
Fumimasa Takahashi
Richiko Suganami
Kinya Murakami

3

5
Grand Glory(GB)
M6
55.0
Olympic Glory
Madonna Lily
Daylami
Maria de La Luz
Maxime Guyon
Gianluca Bietolini
Haras De Hus
Elevage Haras de Bourgeauville

3

6
Vela Azul(JPN)
H5
57.0
Eishin Flash
Vela Blanca
Kurofune
Admire Sunday
Ryan Moore
Kunihiko Watanabe
Carrot Farm Co. Ltd.
Northern Farm

4

7
Tunnes(GER)
C3
55.0
Guiliani
Tijuana
Toylsome
Tucana
Bauyrzhan Murzabayev
Peter Schiergen
Holger Renz
Paul H.Vandeberg

4

8
Daring Tact(JPN)
M5
55.0
Epiphaneia
Daring Bird
King Kamehameha
Daring Heart
Tom Marquand
Haruki Sugiyama
Normandy Thoroughbred Racing Co. Ltd.
Hasegawa Bokujo

5

9
Unicorn Lion(IRE)
H6
57.0
No Nay Never
Muravka
High Chaparral
Tabdea
Yusaku Kokubun
Yoshito Yahagi
Lion Race Horse Co. Ltd.
Desert Star Phoenix Jvc

5

10
Heart's Histoire(JPN)
H6
57.0
Heart's Cry
Retsina
Captain Steve
Tani Wind Time
Yutaka Take
Sakae Kunieda
Masaru Shimada
Northern Racing

6

11
Karate(JPN)
H6
57.0
To the Glory
Lady no Punch
French Deputy
Ray Sash
Akira Sugawara
Yasuyuki Tsujino
Hikaru Odagiri
Yuichi Odagiri

6

12
Shadow Diva(JPN)
M6
55.0
Heart's Cry
Diamond Diva
Dansili
Vivianna
Kohei Matsuyama
Makoto Saito
Three H Racing Co. Ltd.
Northern Racing

7

13
T O Royal(JPN)
C4
57.0
Leontes
Meisho Ohi
Manhattan Cafe
Alpine Rose
Yuji Hishida
Inao Okada
Tomoya Ozasa
Mishima Bokujo

7

14
Danon Beluga(JPN)
C3
55.0
Heart's Cry
Coasted
Tizway
Malibu Pier
Yuga Kawada
Noriyuki Hori
Danox Co. Ltd.
Northern Farm

7

15
Shahryar(JPN)
C4
57.0
Deep Impact
Dubai Majesty
Essence of Dubai
Great Majesty
Cristian Demuro
Hideaki Fujiwara
Sunday Racing Co. Ltd.
Northern Farm

8

16
Ridge Man(JPN)
H9
57.0
Swept Overboard
Admire Monroe
Caerleon
Steady
Yukito Ishikawa
Koki Chiba
Tsuji B.
Tsuji Bokujo

8

17
Uberleben(JPN)
F4
55.0
Gold Ship
Meine Theresia
Roses in May
Meine Nouvelle
Mirco Demuro
Takahisa Tezuka
Thoroughbred Club Ruffian Co. Ltd.
Big Red Farm

8

18
Boccherini(JPN)
H6
57.0
King Kamehameha
Popcorn Jazz
Dance in the Dark
Grace Rumor
Suguru Hamanaka
Yasutoshi Ikee
Kaneko Makoto Holdings Co. Ltd.
Kaneko Makoto Holdings Inc.
The Course, and the Favorite
Fair but the toughest 2400m in Japan
2400m (1 1/2 miles) in Tokyo is probably the fair but the toughest course in Japan. The starting gate is in front of the grandstand, and about little less than 500m of home stretch is there BEFORE the first turn. Then, from the Top o' Stretch to the wire is about 550m (approx. 2.75 Furlongs), so there will be the chance for stalkers as well.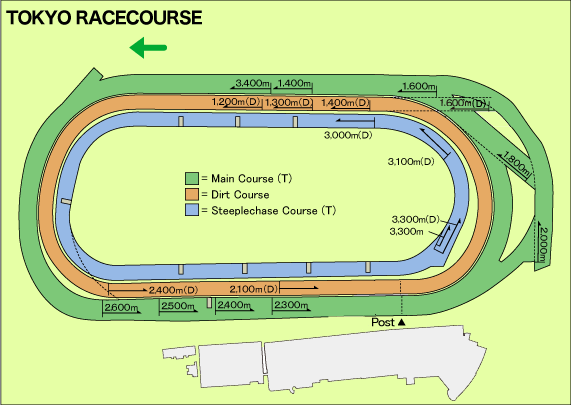 However, as you can see the chart below, after the first turn, course tilts down toward the back stretch, and little up & down until middle of 3rd turn, then course gradually tilts up towards the wire and last 200m made runners struggles the most, which is about 2m (approx. 6.5ft) uphill will appear, and contest not only their speed but stamina as well. 
I always talk to the US trainers that even if the horse is good about certain distance (ex. 1 mile), they will have to add one more furlong (at least half) to their calculation if they really want to win. So, if a grass horse is good at 2000m (1 1/4 miles), they will probably fit to Tokyo Mile. That much, Tokyo is tough course. They call this uphill as "Heart-breaking".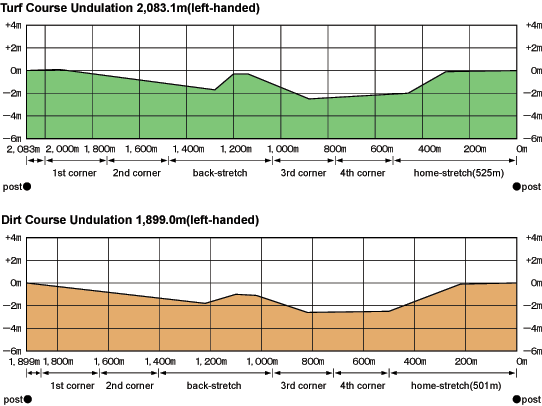 Probably, the favorite will be Shahryar, 2021 Japanese Derby winner.
I haven't yet seen the morning line but probably Shahryar, Japanese Derby 2021 & Dubai Sheema Classic 2022 winner will be the favorite out of 18 fields. His Derby was pretty dramatic, Yuichi Fukunaga (who won't have mount at this time) on board, led him to the wire after stalking many other contenders and finished by nose against to Efforia, the horse of the year 2021. It took for a while after his challenge to UK in this year, but Shahryar will be very much competitive with ace pilot, Cristian Demuro. 
Also Read: Welcoming Japan Cup 2022!! Vol 2
Another dark horses will be Vela Azul & Heart's Histoire 
The rising star Vela Azul, conditioned by Kunihiko Watanabe and the world's best pilot, Ryan Moore, will be the dark horse for this JC 2022. He is achieving victories for 2 races in a row. One race is June Stakes in Tokyo 2400m, same course as JC, and the last one was G2 Kyoto Daishoten in Hanshin which is very important Fall G2 for JRA intermediate / long distance runners. He is by Aisin Flash out of Vela Blanca by Kurofune, both sire and dam sire are either Japanese Derby & Tenno-sho Autumn winner or NHK Mile Cup & Japan Cup Dirt winner, so there is no reason why he does not fit to Tokyo course.
On the other hand, Heart's Histoire shouldn't be ignored. He will be escorted by Japanese legend, Yutaka Take, who made 4 heroes to the winner's circle of Japan Cup in the past, like Deep Impact, Special Week, Rose Kingdom and Kitasan Black, regardless their driving style, running in the front or save the ground to make a strong late kick.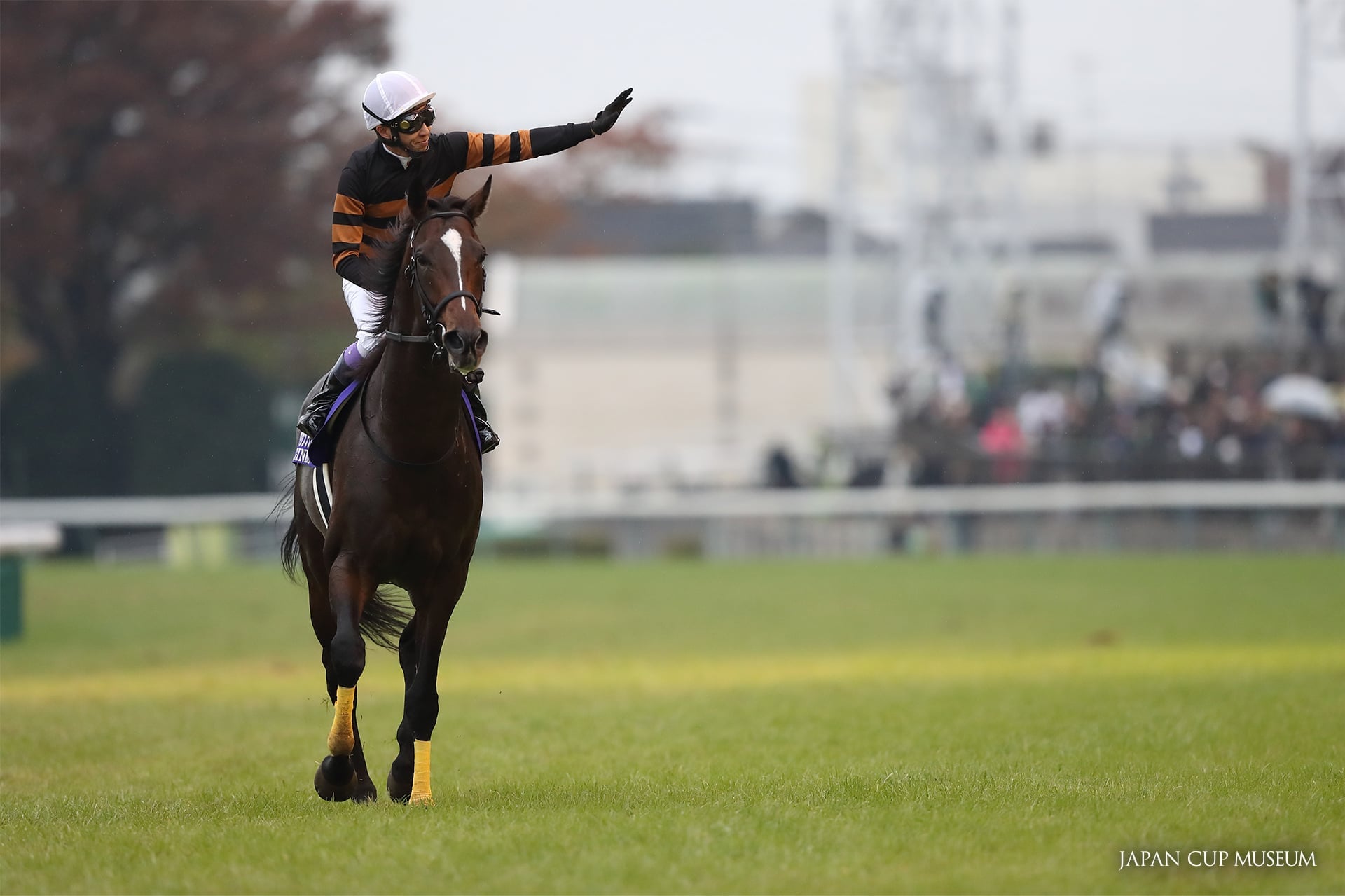 Heart's Histoire is Graded stakes placed winner, and his race result is pretty stable. He has run 17 races and missed top 2 finished positions just 5 times (other 12 are always winning or 2nd). The last race, Copa Republica Argentina, was held in Tokyo 2500m and that race was selected by Yutaka Take's advice that he will be good on left-handed races. 
The pace was pretty slow, and his stalking position was way back from the leader. It was pretty tough race for stalkers but he made good late kick and reached to the wire as 2nd, 1 1/4 lengths from the winner, Break Up. According to his run, I do believe he will make great excitement for the racing fans.
You can also find the stats from JRA Website: Japan Cup Stats
If you have any questions, please feel free to contact at info@derby-trail.com